Stamping & Assemblies for the Filtration Industry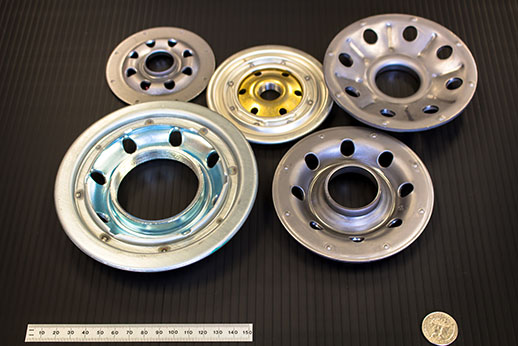 At Varbros, LLC, customers have counted on us for over 50 years to provide exceptional quality stampings and assemblies. We offer stamping services with a wide range of stamping presses, handling anywhere from 100 to 1,000 tons. Our stamping services are available for prototypes, full production, and contract manufacturing. We supply our services to tier 2 and tier 3 companies, along with offering just-in-time inventory services.
At our 118,000 square foot facility, we can accommodate materials including carbon steels, high-strength steels, pre-coated steels, aluminum, and tin plate. We stamp these materials in thicknesses that range from .015" to .315" – manufacturing to tolerances as tight as ± 0.001".
Full assembly services are also available, including high quality projection, resistance, and spot welding. We provide our stamping and assembling services for industries such as the filtration industry providing products such as nut plates, retainers, and welded assemblies. The quality of our work is demonstrated by our ISO 9001:2015 certification with efficiency programs including lean manufacturing and a Six-Sigma Black Belt on staff.
We back up our stampings and assemblies with a variety of additional services, including post-plating and coating, deburring, heat treatment, tapping, CNC machining, and more. The multiple varieties of manufacturing services we provide make us a one-stop shop for many of our customers for high volumes production.
For further information about out stamping and assembly services, please see the following table or contact us directly.
General Capabilities
Contract Manufacturing
Custom
Production
Prototyping
Just-In-Time
Tier 2 & 3
Welding Processes
Projection Welding
This method uses a solid projection in the material to concentrate the current flow at a contact point which results in lower currents, forces and process times than spot welding.
Resistance Welding
A process where heat is generated by passing current through the resistance caused by the contact between two or more metal surfaces to be joined.
Spot Welding
A form of resistance welding used to join overlapping metal sheets. Two electrodes are used to clamp the sheets together and pass the current between them.
Materials
Carbon Steel (CRS & HRS)
High-Strength Steel
Pre-Coated Steel
Stainless Steel
Tin-Plate Steel
Aluminum
Tonnage
100 tons - 1,000 tons
Material Thickness
Min: 0.015"
Max: 0.315"
Assembled Products
Retainers
Rear Retainers
Nut Plates
Brackets
Welded Assemblies
Additional Services
Assembly
Post-Plating & Coating
Deburring
Heat Treatment
Tapping
Welding
CNC Machining
Metal Stamping
Production Volume
Speciality Production Runs
High-Volume Runs
Large Runs
Contract Runs
Lead Times
Tool Builds: part dependent — typically 14-16 weeks.
Production: typically 4 weeks — 6 weeks with outside services.
Industry Focus
Filtration (Fuel and Liquid)
Automotive
Appliance
Building Products
Home Entertainment
Medical
Industry Standards
ISO 9001:2015 — International Organization for Standardization
IATF 16949:2016
Efficiency
Six Sigma Certification
Practice Lean Manufacturing Principle
Black Belt
File Formats
AutoCAD (DWG, DWZ)
Catia (CATDrawing, CATPart)
IGES — Initial Graphics Exchange Specification, ANSI file format
MasterCam (MDX, MC8, MC9, SET)
PDF
STEP — Standard for the Exchange of Product Model Data